There are many decisions that a new mother needs to make after giving birth and, perhaps the biggest of all, is the decision whether to breastfeed or not.
Most mothers have a definite opinion on the subject and unfortunately, there is often some mom-shaming that takes place. When a mother decides to bottlefeed, the breastfeeding group typically looks down on her.
There may be many reasons why a mother decides not to breastfeed. Some babies tend to have difficulty with it, and some mothers may not produce enough milk for the child. It seems that there is another reason, and it is why Meghan Koziel has decided she would not be breastfeeding.
Although Meghan is a young mother, she had already been diagnosed with breast cancer by the time she was 26 years old. When she was recovering, she went through a double mastectomy so she is living life without both of her breasts.
It was even questionable as to whether she would be able to have children or not. In order to make it possible, she went through an egg retrievalr. She got pregnant after two years of being on medications to block her hormones and now she is the mother of a beautiful girl.
Since Megan had the double mastectomy, it was impossible for her to breast-feed Kendra.
She knew that many people would not be aware of her situation and they might have said something awkward that could have made her feel bad. In order to avoid that situation and correct it from the start, she decided to make her situation as obvious as possible for everyone in the hospital.
The picture was posted of Meghan on Instagram. In the picture, she was lying in a hospital bed and had a bright pink sign above her.
The sign read:
"No Breastfeeding Zone. Though breastfeeding is a very special task, Please be aware before you ask. Our miracle baby will be formula fed, And it will not affect her future ahead. This Mommy is a Survivor."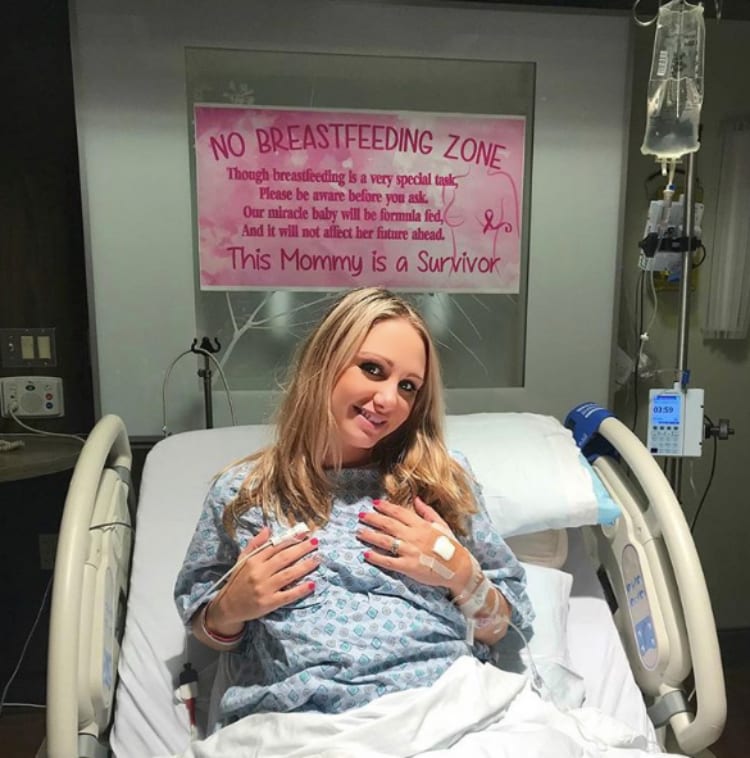 A caption that went along with a picture and it read: "Attention please, attention please. We do indeed have a mommy-to-be who had breast cancer and a mastectomy which means, without boobs in the houseeeee! Got the banner raised just in case people are confused at why we are NOT going to be breastfeeding our little bundle of joy. Yes I have foobs, no I do not have boobs (or nipples) therefore…my body is incapable of breastfeeding."
She also left a little bit of wisdom for any mother who is considering breastfeeding or, possibly bottle-feeding.
"To all the mommies like me facing complicated health histories of facing social media trolls for how you're raising your child I would say…keep on being you!" she said.
"We all must make decisions that are best for our families, and it is truly no one else's business if it doesn't affect them! Raise your child surrounded by love and with happiness and that baby will be amazing."